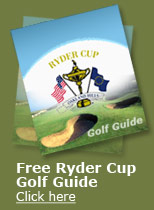 Quest for the Cup
Experience your very own Cup Matches at these classic destinations.
Favorite Golf Sites
» WorldGolf.com
» GolfEurope.com
» GolfAdvisor.com
» ScotlandGolf.com
» StAndrewsGolf.com

Ryder Cup Brochure
Ryder Cup brochure contains information about Ryder Cup, History and complete list of Golf Packages available.
---
Please fill out the form below to receive your FREE Ryder Cup brochure copy.